The Burabai is the main resort area of ​​Kazakhstan. Here you can find many tourist camps and rest houses with all the attributes of a perfect resort. Also, you can find sanatoriums and health centers here. Besides, the resort is full of fun: restaurants, cafes, and clubs, outdoor activities.
Is it expensive? Holidays in the Burabai are designed for different finances of guests. You can relax in different ways: luxuriously and inexpensively, it's up to you. For example, in some sanatoriums and hotels of the resort, you can spend more money than in Turkey. However, there is always an alternative – "average" resort houses and guest houses. There are a huge number of them. You know that annually, hundreds of tourists from different parts of Kazakhstan and neighboring countries visit the resort? It's incredibly popular!
Can I get treatment here? People come to the Burabai National Park to get rid of cardiovascular diseases, problems with the nervous system, digestive tract and many other diseases. The Burabai is famous for healing mud, mineral water, and clean air, which is very special for a resort. Even if you don't have problems with your health, try it – and you'll see the difference!
What is so special about this place? "The pearls" of the Burabai national park are 14 lakes located on its territory. The Burabai is known for its purest water, so you can see the inhabitants of the underwater world at a depth of several meters if the weather is okay.
What else can do? If you'll go for a walk in the Burabai National Park. You can find more than 100 species of mushrooms in the park, and…many of them are edible! Not only locals but also tourists are happy to spend time picking mushrooms. It's called "silent hunting" and this is really relaxing.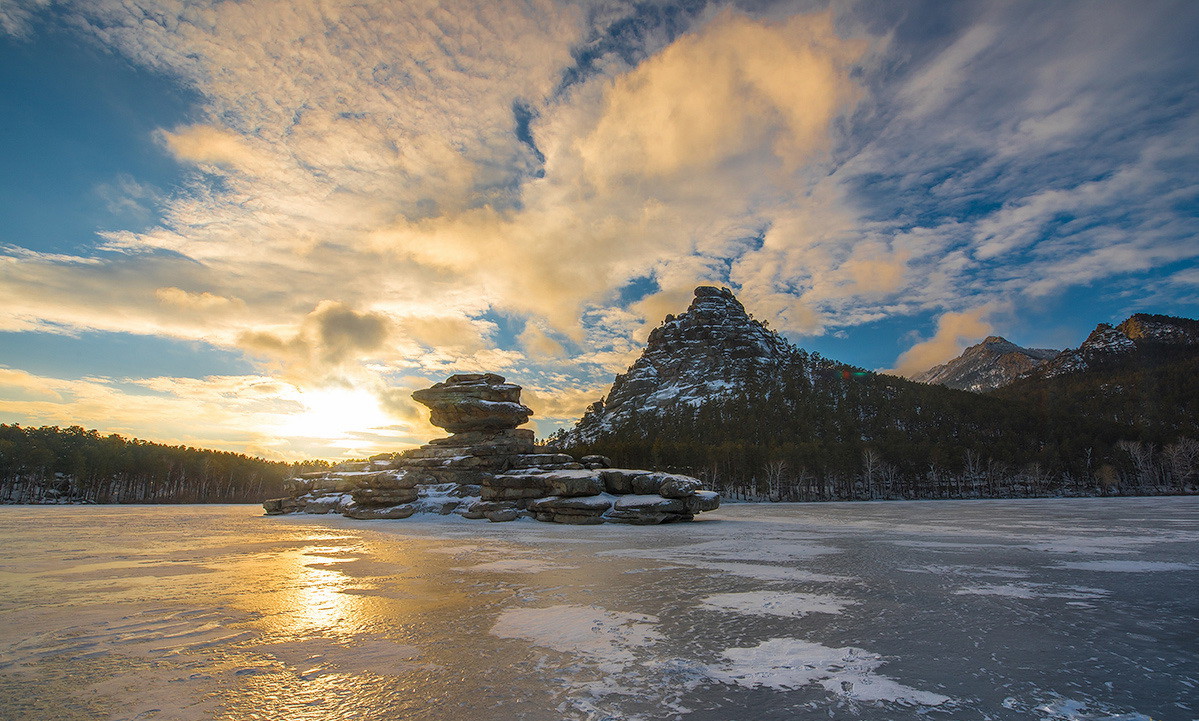 What is the best time to go? Actually, Burabai is very "flexible". Winter and summer are the most popular seasons.
Winter: snowmobiling, tubing, snowboarding, and skiing are offered, not for free ofc, but it's worth it. Fishing is popular in winter too. There are some fishing-zones organized for tourists.
Summer: you are offered a beach holiday on the coast, water activities and air baths.
Once you come to the Burabai, you will be definitely amazed by its size! The highest point in the area is Kokshetau Mount. To the south, it is Burabay Mount (690 meters) - an excellent panoramic point. Farther south there are the Schuchin hills, the largest of which is called Zheke-batyr (826 meters). There are a small number of architectural monuments. This area is famous for its beautiful natural landscapes.
Legends of nature. The real treasures of the Burabai are Okzhetpes mountain and the stone island of Zhumbaktas. Probably every person who came here has a photo with a legendary Okzhetpes mountain. It rises to a height of about 300 meters and fascinates all tourists. There is a surprisingly large number of legends connected with Okzhetpes Mountain. According to one of them, once Abylay Khan returned from the battle after the war with the Kalmyks and people began to divide the conquered. Among the trophies, they found an incredibly beautiful young woman. Every warrior wanted to marry her. Abylay Khan allowed the beauty to choose a fiancé herself. But she already fell in love with a man in her homeland. So the woman didn't want to marry any of the warriors. She out a piece of cloth at the top of the cliff and said: "I will marry the one whose arrow will hit it". But no one could do it. The cliff was too big for their arrows. Since then, this place was called Okzhetpes, which is translated from Kazakh as "the one that arrow can't rich". Zhumbaktas - "Mystery Stone", or "sphinx", is also known as "Young lady-Old woman". Why? If you'll look at Zhumbaktas carefully, you'll see. From one side it looks like an old woman, and from the other side, it's like a young girl with long hair.
So, there are 12 things you should definitely try in the Burabay:
· Explore the area by bicycle on specially equipped bike paths.
· Feel the power of the wind in the Grove of Dancing Birches.
· Take a break from civilization in a campground in the forest near Big Chebachye Lake.
· Visit the Nature Museum and local Zoo.
· Take a hiking trail along the mountainside, enjoy views of the blue bay.
· Try the healing drink of nomads – kymyz.
· Take a boat ride on the Burabai Lake and take a photo with Zhumbaktas.
· Visit the Bereke Bazaar and purchase local products such as sea buckthorn juice or smoked fish and crayfish.
· When visiting the glade of Abylai Khan, reach the throne, make a wish and go around it 7 times. Your wish will come true!
· Climb the mountain with Kenesary's cave where you may meet squirrels, hares, and moose.
How to get there?
From Astana
The distance from Astana to Burabay is about 250 kilometers. The most common way to get there is by train. Travel time is about 3 hours 42 minutes. You can also get on buses passing through Schuchinsk (it's 20 kilometers from Burabai). The cost of the bus from Astana to the Burabai is about 1,500 tenge~4$. You can also go by taxi, the average cost is 2,000 tenge~5$.
From Almaty
If you're in Almaty, you can also go to the Burabai National Park by train. It will take about 15 hours. But you can get there faster – by plane to Kokshetau, it will take about 2 hours. But the cost is 23 000 tenge~60$. From Kokshetau you can get to the Burabai by taxi.
If you come to the Burabai, you'll immediately feel the healing air of this place. You can try yourself as a climber or just enjoy the beauty and power of nature. Put off your affairs and visit the Burabai National Park, and you will discover not only Kazakhstan but also yourself in a new way!