Well, in fact, modern Kazakhs wear the same clothes as in the whole world. National and traditional costumes of the Kazakhs are already in the past, you can see them in real life only at special events dedicated to the Kazakh culture. In daily life, many people prefer a casual style. You probably won't see scandalous and crazy clothes here. Well, maybe in the capital. In Nur-Sultan, people pay a lot of attention to how others are dressed. Therefore, everyone here follows the style. If we highlight one thing about their style, then that's it: in Nur-Sultan, black color prevails in clothing.
Fashion in Kazakhstan is a very important business. People care about fashion a lot, they love expensive brands. Kazakhs understand exactly what quality is, they like luxury and high fashion. And one more important point: Kazakhstan people are not afraid of wearing clothes from their own, local designers. The support of talented local designers speaks of the great future of fashion in the country. Kazakhstan people care about national motives and their heritage a lot. And local designers reflect this love. They combine luxury quality, modern style, and Kazakh motives in their clothes. Previously, there was no such fashion here. Now the fashion of Kazakhstan is recognized in many countries of the world. Kazakhstan even has its own Fashion Week! Kazakhstan Fashion Week exists for 12 years, during this time many Kazakh designers have shown their style. Now, this sphere is becoming more and more popular.
Because Nur-Sultan is constantly growing, and the because that it is already in the top 30 best cities, it is not difficult to guess that the sphere of trade and entertainment also doesn't standstill. It seems like new supermarkets, specialized stores, and shopping centers appear too fast!
So, you are in Nur-Sultan. Where to go first if you want to do shopping? Whether you like the world's mass market, popular brands or you want to try Kazakhstani brands - this article will help you to decide where to go.
One of the most beautiful and interesting shopping centers in Nur-Sultan is Keruen. It is located in the very center of the city, next to the symbol of the country - Baiterek. All conditions were created specifically for visitors. In the mall, everything is divided into categories. The well-thought-out structure of the complex will surely please those who make shopping tours to Nur-Sultan. Reviews of tourists show that there are professional consultants, so there will be no problems even if you don't speak Russian or Kazakh! There are a lot of beauty salons, a playground, dry cleaning, and much more. Shops are distributed by age categories of buyers, several dozens of stores present clothes for kids. Here you can find Adidas and Reebok brand stores. Girls will be pleased with a wide selection of clothing stores: Max & Co, Marina Rinaldi, Prive, Dormani. And in this shopping center, there are magnificent jewelry and perfume salons, for example, the world-famous Tiffany. An incredibly beautiful square with benches and fountains is equipped in front of this shopping center if you wanna chill and take some photos. It is lcoated on Dostyq Street, 9.
Asia Park is the favorite shopping center for many people. In addition to dozens of clothing and shoe stores, it has an excellent grocery supermarket, and there is also the popular Golden Key store - kids' goods. You can find here both expensive and cheap clothing stores: DeFacto, Grazie, Tom Tailor, and Mark Formelle. This shopping complex also attracts with a large selection of perfume salons and the presence of a beautiful restaurant with panoramic views of the city. Address: Qabanbay Batyr Avenue, 21.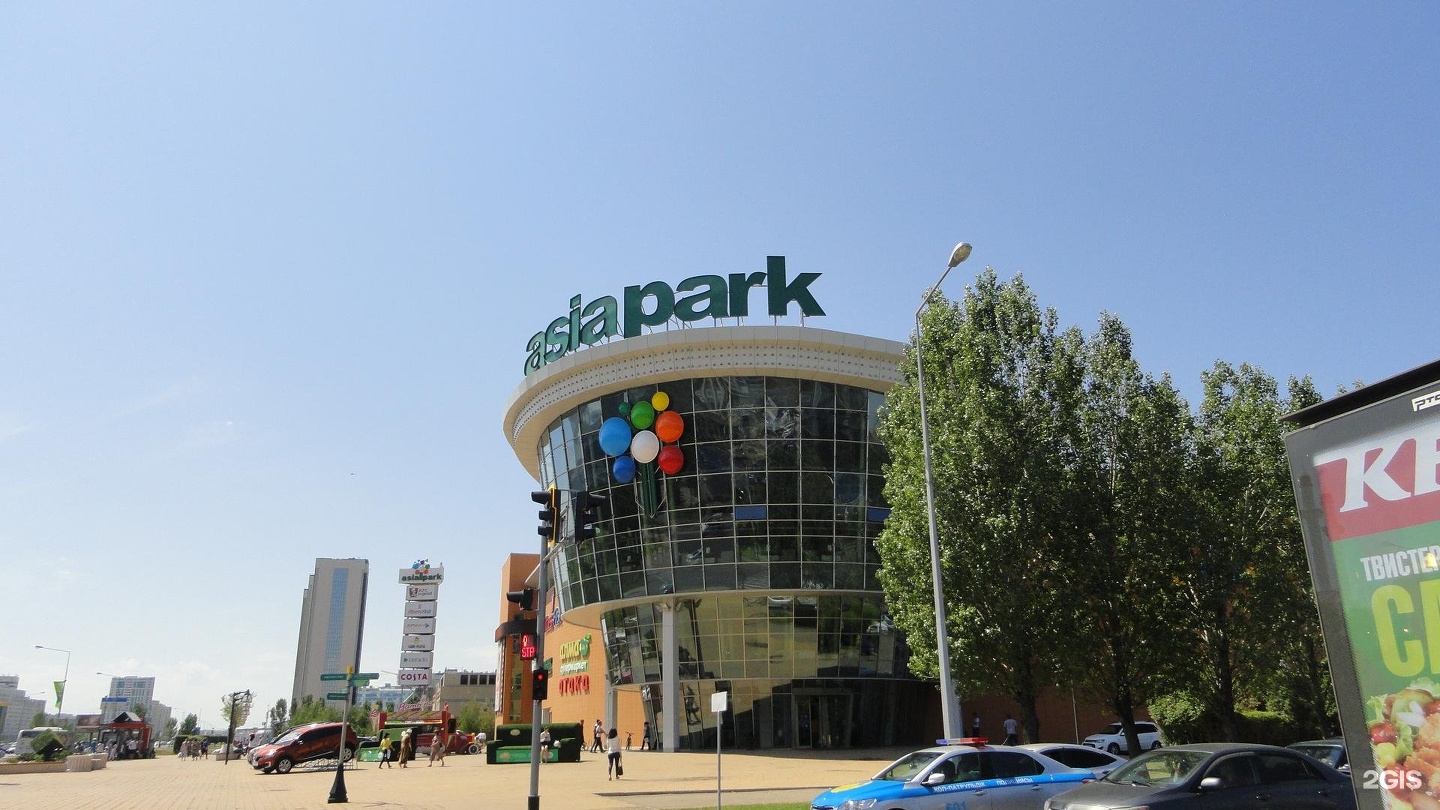 Mega shopping complex is very beautiful, in addition to its stores, it has an ultramodern cinema and a large entertainment complex for children. This shopping center has shops of various price categories: there are elite boutiques with designer items and shops of popular budget brands. Mega is considered one of the quietest shopping centers in the city, you can shop in a comfortable and not crowded atmosphere. During shopping, you can enjoy coffee at Costa, Starbucks or Angel-in-Us. There are more than 20 Kazakhstan brands here: Happylon, Marwin, Evrikum, Chaplin, Technodom, Mimioriki and others. Also in this shopping center, there is a very interesting Meloman store, where in addition to music CDs you can buy interesting books and souvenirs. Location: Qabanbay Batyr, 62.
Saryarqa shopping complex is not losing popularity either; its area is 18,000 square meters. In this shopping center, you can find shops for every taste, there is a large Mexx store, as well as a design salon of Kira Plastinina. The shopping center has several sports stores, and here is one of the largest Sela brand stores in the city. If you have children, you can visit the Orchestra and ButtonBlue children's clothing stores. After shopping, you can go to the cinema or relax in one of the cozy restaurants of Saryarqa. The shopping mall is located on Turan Avenue, 24.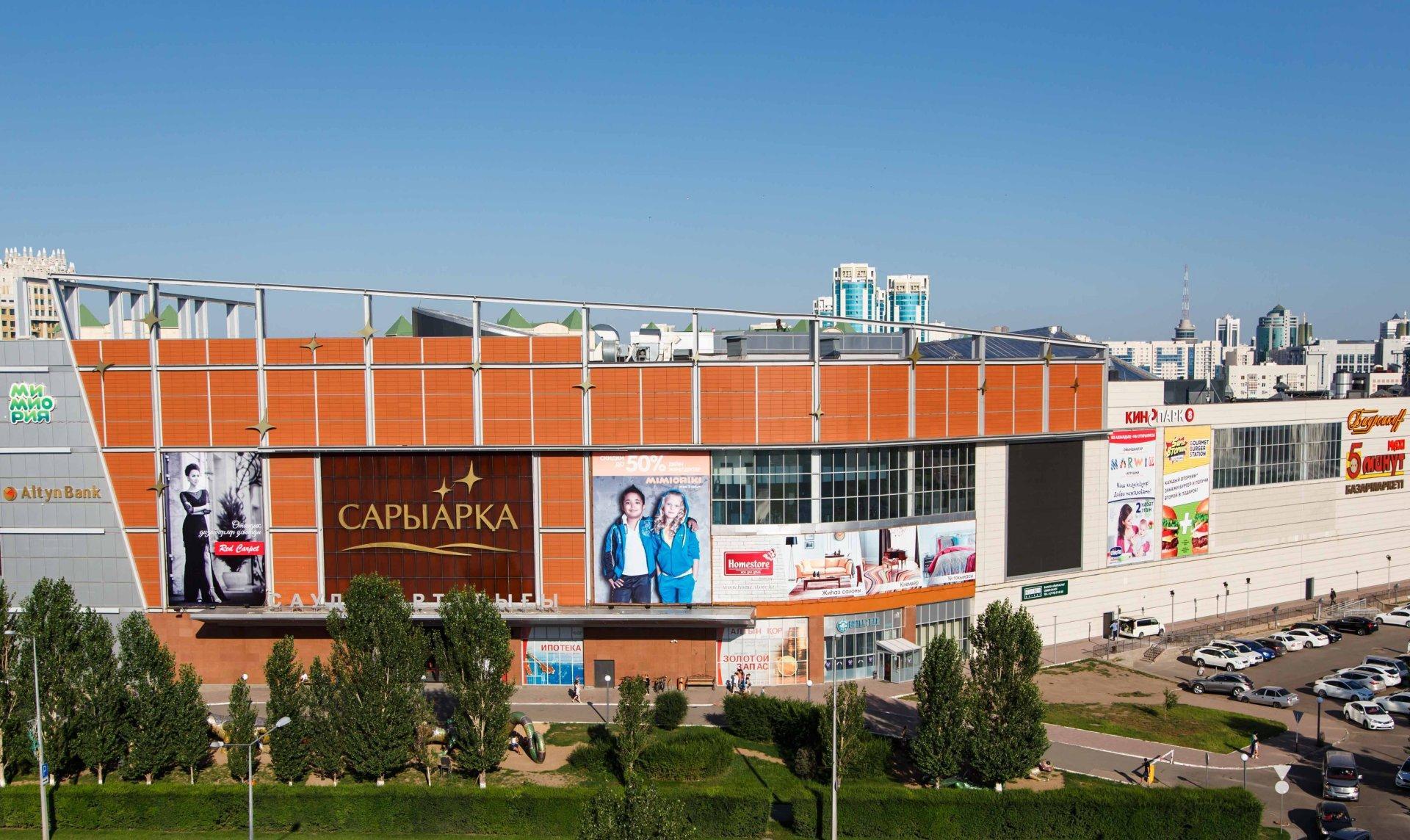 Among locals, one of the most popular is the Arujan shopping and entertainment complex. In this three-story shopping center, you can find shops of any specialization, on its ground floor there is a large grocery supermarket, as well as several other popular brand stores, including New Look. Ladies will definitely like BeautyMania perfume store. Wanna some stylish jewelry and accessories? You can go to the Lady Collection shopping pavilion. On the second floor, there are men's clothing stores, and there are also shopping salons offering home goods. The third floor of the Arujan center is occupied by the largest Star Play amusement park in Kazakhstan. It is located on on Zhansugiruly Street, 8/1.
The real attraction of Astana is Khan Shatyr - the shopping and entertainment center, it opened in 2010 and occupies a beautiful modern building in the shape of a tent. Khan Shatyr can be called a city in the city - it is so large! In this shopping center will be really interesting for lovers of modern branded clothing, luxury cosmetics, and perfumes. You can buy luxury watches in Swiss Time and Tissot, and great accessories in Pandora, MonSoon Accessorize and Swarowski. You may like Kazakhstan accessories in Balausa and Bilesik stores. After shopping, you can go to the aquapark and relax on the beautiful artificial beach. Location: Turan Avenue, 37.
Looking for unusual souvenirs in national style? You can go to the Talisman store, that is located on Republic Avenue, 7. The goods here are simply amazing; in the store, you can buy handmade national clothes, jewelry, traditionally painted plates and home decorations made of wood. In this store, there are goods of various price categories. You can buy really expensive national musical instruments, and also you can save money buying cheap miniature wooden figures and handmade toys. The most expensive are works of art and national weapons.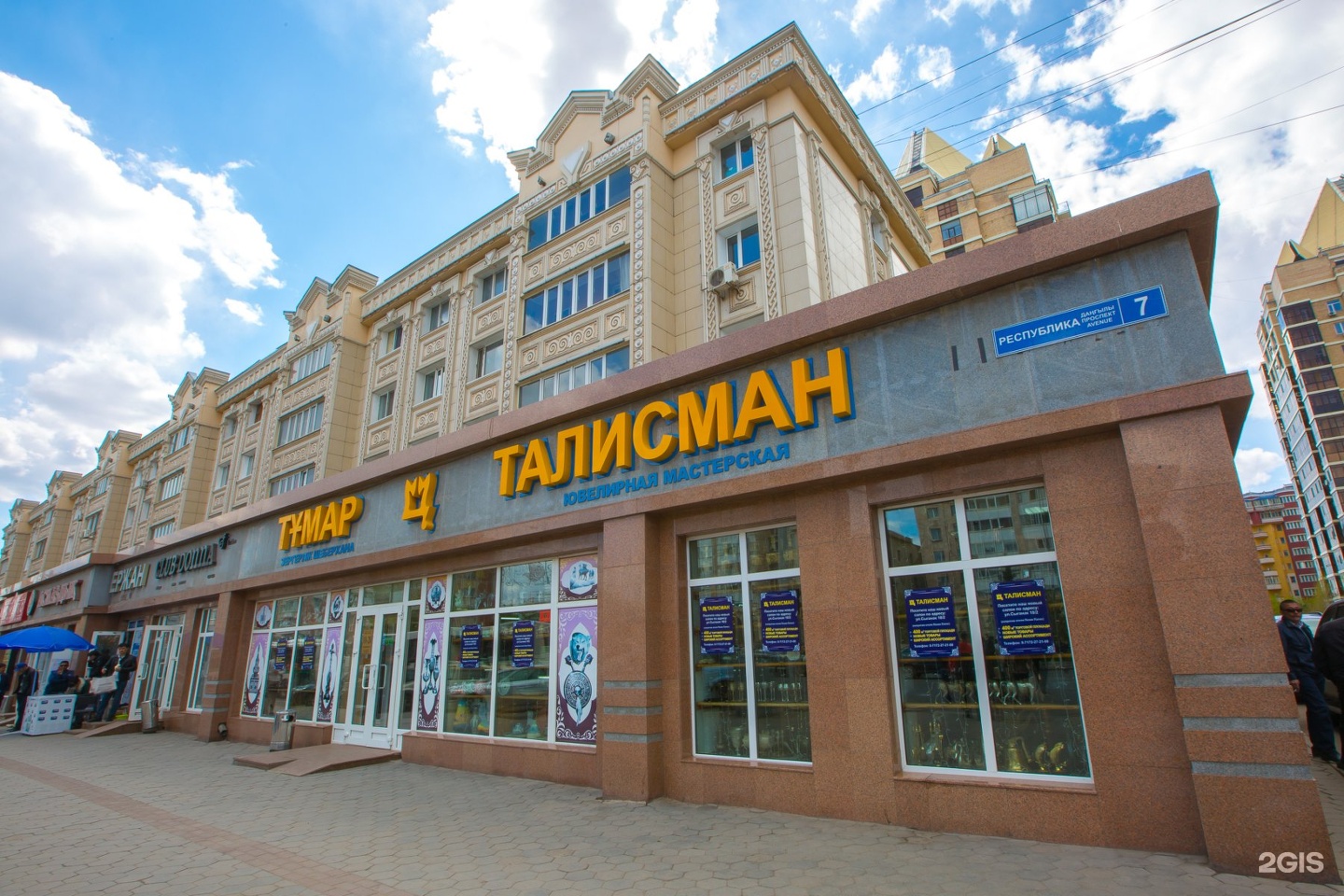 I hope this small guide to the shops of Nur-Sultan helps you to have a good time! Have a nice shopping!