One of the most popular among young people is Keruen entertaining center. It is located on the left bank of Nur-Sultan near Nurzhol boulevard and Baiterek monument.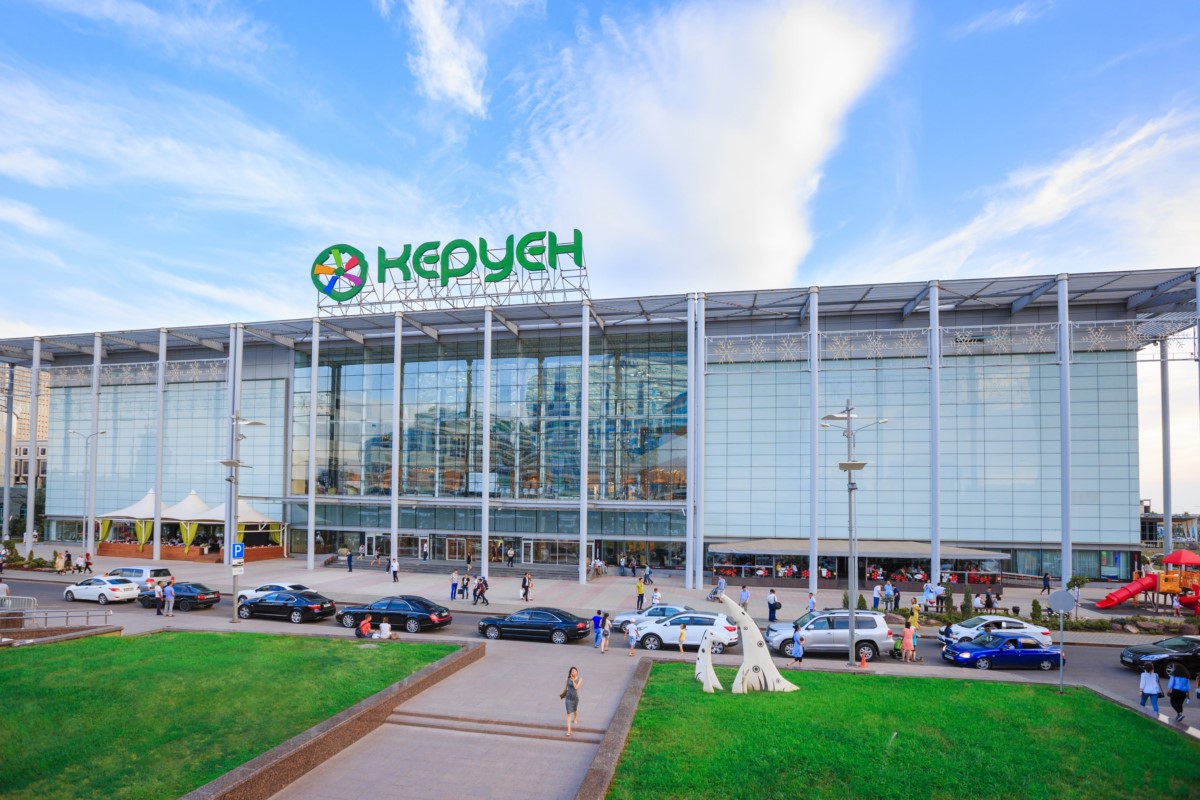 The main concept of the building is related with the Silk Road. The design aims to show the historical stopping points of the Silk Road in the shopping center: The East (China), the singing sands, the heavenly lake, Kashgar bazaar in Tajikistan, a fortress and a jewelry market in Afghanistan on the first and second floors, and the road ends on the third floor in Europe.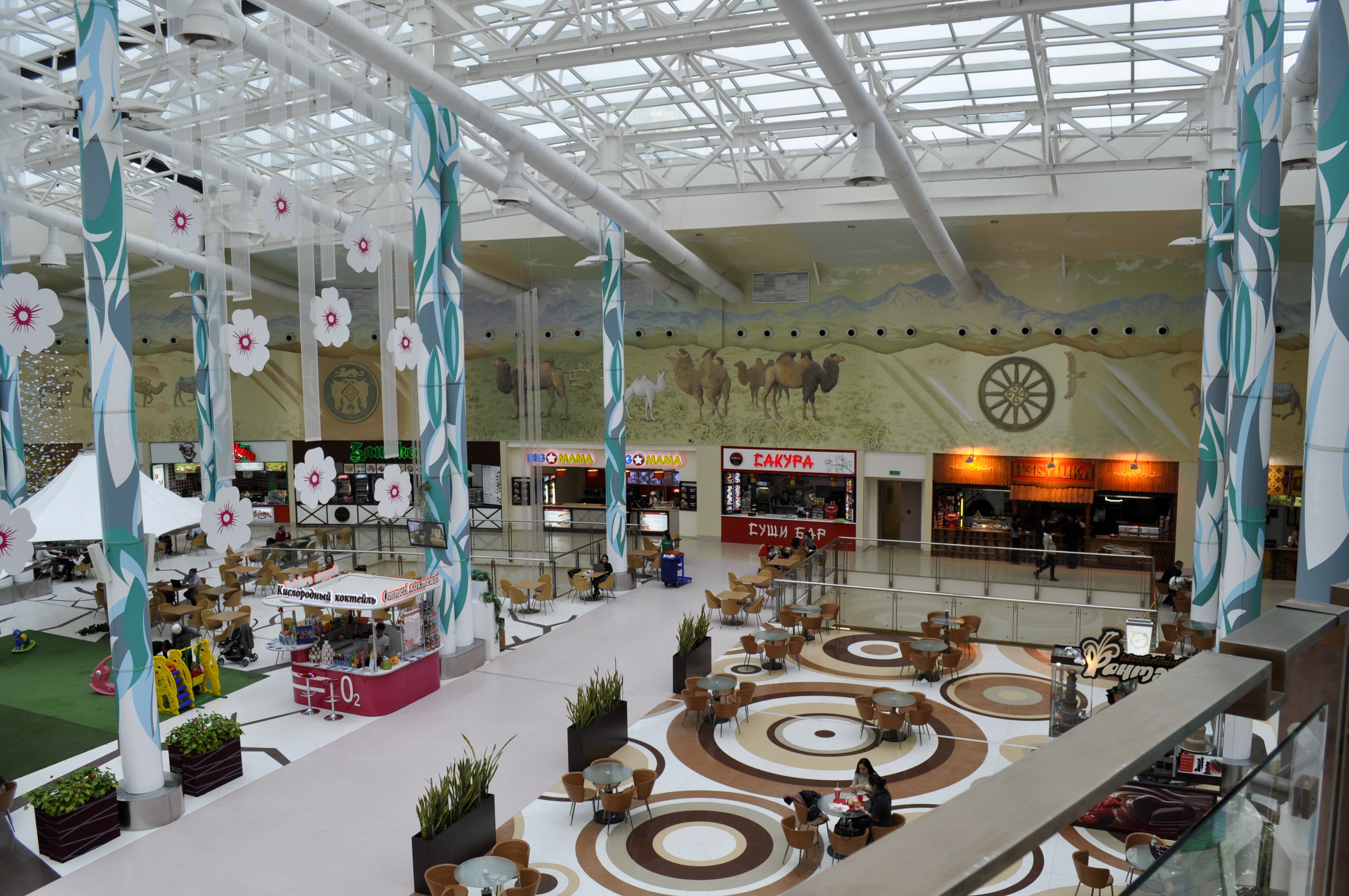 Shops are distributed by age categories of buyers, several dozens of stores present things for children. There are a lot of clothing stores, and there are also magnificent jewelry and perfume salons in this shopping center. Also, shopping center has big food court with different café and restaurants. For entertaining there are gaming center and cinema theater.
Location: Dostyq Street, 9
Keruen City was opened in 2007 as Mega Astana. There are 87 shops and boutiques, 360-seat food court, 14 cafes and restaurants, gaming center and 12-meter climbing wall. A parking spot has 510 places. Keruen City would be a great place for people that don't like loud shopping malls.
Location: Korgaldjyn Highway, 1.
Khan Shatyr was opened on 6th of July in 2010. This shopping center will be interesting for lovers of modern brand clothes, luxury cosmetics and perfumes. After shopping, you can go to the water park and relax on the beautiful beach. It is a big shopping center that has retail and entertaining complexes.
Beside lots of different brand shops and boutiques it has a family park, cafes and restaurants, cinemas, supermarket, gyms, a water park with an artificial beach and pools, office rooms, parking for 700 places. There you can find everything you were looking for. Also, many concerts and exhibitions are often held there.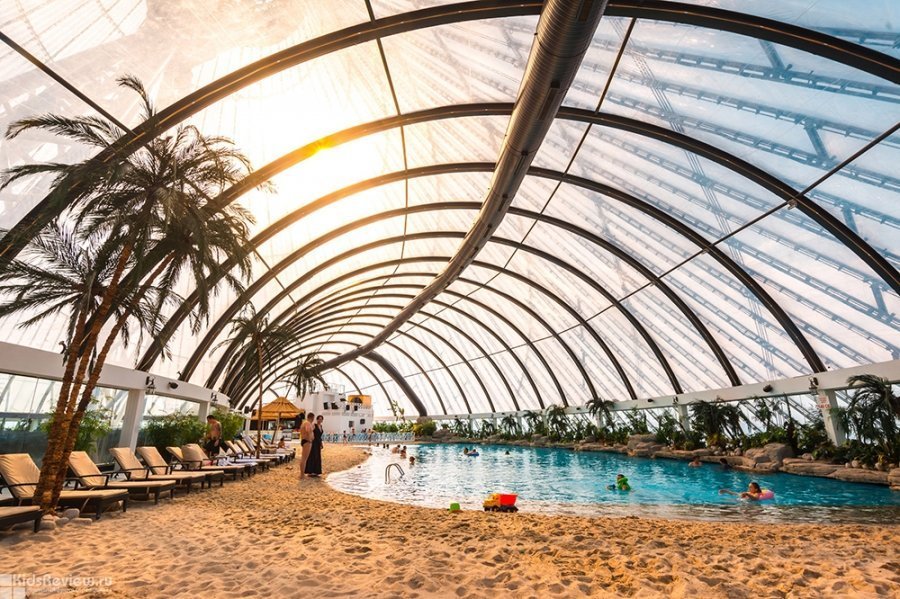 Lcation: Turan Avenue, 37.
Mega Silk Way is the largest shopping mall in Nur-Sultan. It is located near EXPO and was opened in 2017. The area of MEGA Silk Way is 140 000 square meters.
The building consists of 1 underground floor and 2 above ground floors. This entertaining center would be a great place to spend time with your family, because beside brand shops it also has big gaming center «Happycity» with a total area of more than 7,000 square meters. Children would love this place.
Location: Qabanbay Batyr, 62.
Eurasia
The shopping mall Eurasia consists out of 3 malls. Eurasia 1 was opened about 20 years ago and it is one of the first shopping centers that was opened in the capital of Kazakhstan.
There are lots of shops and boutiques. Eurasia 2 mostly has jewelry shops. Eurasia 3 is the new mall that has not only shops, but also entertaining things such as cinema and gaming center. It also has food court for 500 people. Eurasia is located on the right bank of Nur-Sultan. Actually, this place is recommended for tourists rarely, but there are a wide choice and you will definitely find what you are looking for.
Location: Petrov Street, 24.