In the classic brunch menu, breakfast meal dominates over lunch dishes, but there are no strict rules. Typically, guests are served with egg dishes, snacks, pastries, bacon, toast with jam, fresh fruits and desserts. If you wish, you can include milk porridge, casseroles and ice cream.
Let's see what dishes that restaurants and cafés of Nur-Sultan serves.
Coffee Boom
Coffee Boom is a restaurant chain that was opened in 2010. Currently they have 12 restaurants in Nur-Sultan, 4 in Almaty, 1 in Kokshetau and 1 in Pavlodar. In a restaurant they have lots of breakfasts: English Breakfast, Scottish Breakfast, Wild Breakfast, Swiss Breakfast, Viennese Breakfast, American Breakfast etc. Many different porridges, club sandwiches and omelets. Their menu is pretty comfortable, because all ingredients they use in each dish are written near each meal. The average check is about 2500 tenge.
In Nur-Sultan Coffee Boom restaurants are located on the left and right banks:
on Mangilik El Avenue, 28;
Zhenys Avenue, 28;
Saraishyk Street, 9;
Tauyelsyzdyk, 4A;
Kenesary Street, 22;
Kabanbay Batyr Street, 62 in Mega Silk Way;
Turan Avenue, 22;
Beibytshylik Street, 35;
Qudaiberdiuly Street, 35;
Qoshkarbayev Street, 10/1;
Dostyq Street, 12;
Dostyq Street, 9 in Keruen Shopping Mall;
Министерство кофе (The Ministry of Coffee)
The Ministry of Coffee is a café that serves breakfasts all day. The names of the breakfasts are really funny. You can order «Mom's recipe of summer squash toasts», «Bachelor's Breakfast», «Brother Liked It» or «Spoiled sister's breakfast». Also, they serve very good coffee there! The prices in this restaurant is very affordable – the highest price for a breakfast is 1800 tenge and the cheapest breakfast costs 1400 tenge. The Ministry of Coffee is located on Kunaeva Street, 35; near to House of Ministries.
DelPapa
It is a very popular place among young people because of a cozy atmosphere and delicious food. They serve branches from 11:00 till 16:00, and have a separate branch menu. Their branch menu consists of Arancini with Parmesan and arabyata sauce; Salmon Toast with avocado and poached egg; Eggs Benedict with potato; Potato pancakes and ham; Asparagus with poached eggs and Bernes sauce; Waffles with caramelized banana, hazelnuts and a scoop of ice cream; Syrniki with homemade yogurt; Crispy chicken with cole slaw salad. The average price of a dish is 2 000 tenge.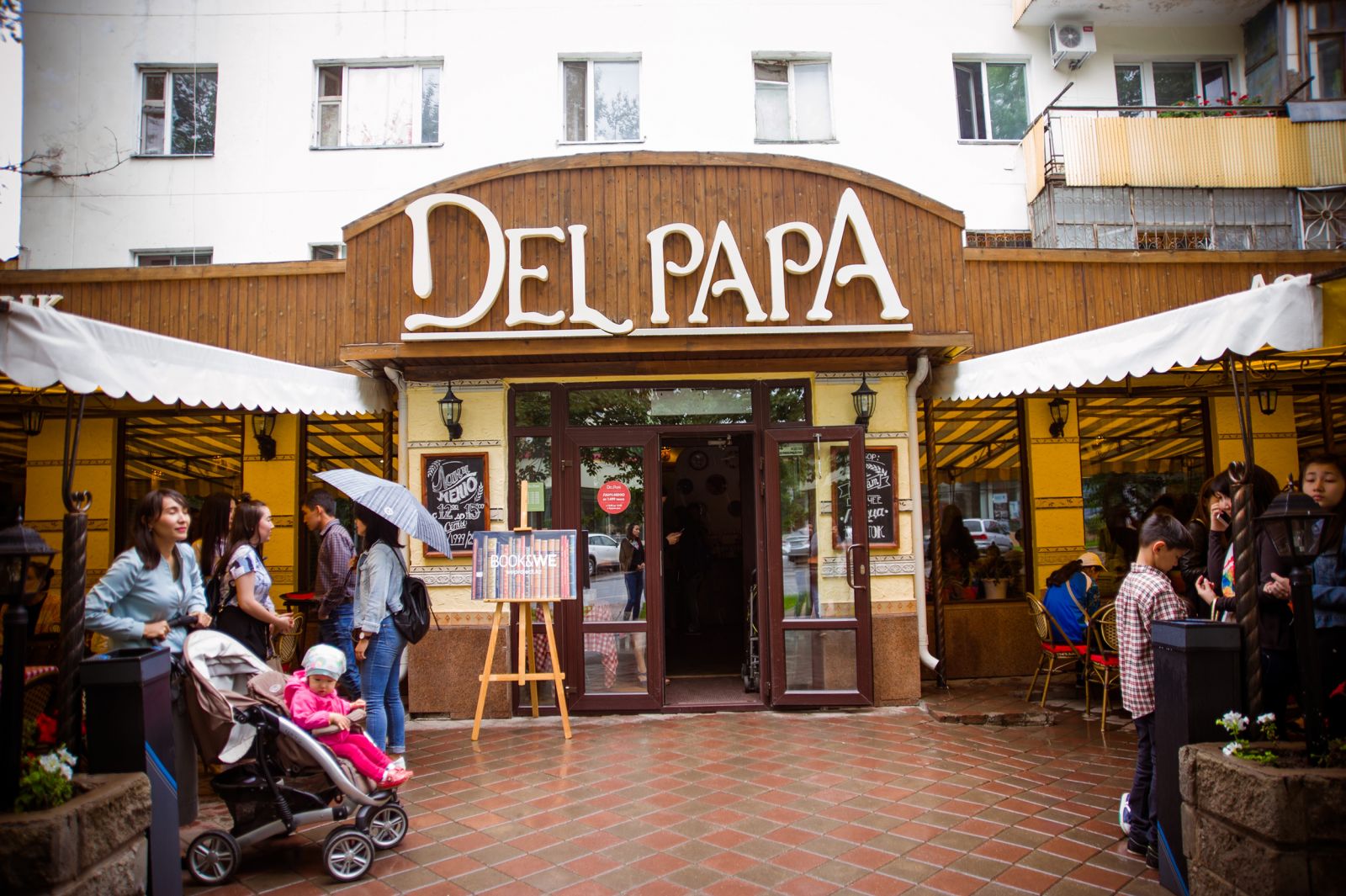 There are 4 DelPapa restaurants in Nur-Sultan, which are placed on:
Abay Avenue, 59;
Dostyq Street, 9;
Qabanbay Batyr Avenue, 34;
Republic Avenue, 10.
Manhattan
Сozy atmosphere, friendly staff and delicious food of Manhattan will brighten up your Sunday weekend. This café is located on Mangilik El, 29 Avenue. It works 24/7 and serves breakfasts all day. The range of breakfasts is not big, but many visitors noted that their food is very delicious. Average price for breakfast is 2000 tenge. Beside all breakfast they have hot meals, pizzas, burgers, steaks and even sushi rolls.
Crepe Café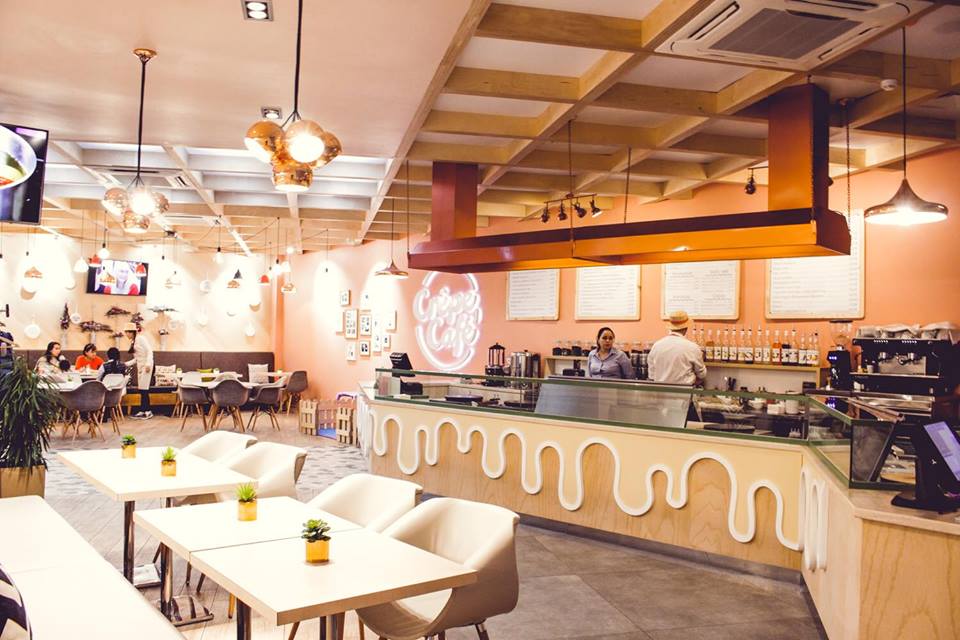 Crepe Café is very cute and coze place. The interior is decorated in pastel colors. They have special breakfast meals, but you can also order omelets separately. They also have porridges, smoothy bowls, soups, desserts, spicy and sweet crepes. There are papers and colored pencils on each table, so you can draw while waiting for your order. Crepe Café is open from 7:30 till 00:00 on weekdays and from 9:00 to 00:00 on weekends. The average cost is 3500 tenge. Crepe Café has two cafés on Kunayev, 12/1 Street and Mangilik El, 17 Street.
Take eat easy
They serve breakfasts from 9:00 till 12:00 on weekdays; from 9:00 till 14:00 on weekends. Take eat easy can offer you London Breakfast, Tokyo Breakfast, Santorini breakfast their average price is 2400 tenge. Beside this, you can "make" your own breakfast. You can choose either fried eggs, either scramble and add to them cheese, vegetables, ham and other ingredients that you like. The price will depend on what things you have added to your breakfast.
They also have "Breakfasts from Chief" that is, let's say "fancier" than usual breakfast but the price is not very expensive. The Chief can make French omelet with seafood in white wine sauce, poached onion and mussel juice; Tartin with mashed avocado and peas, fried eggs, and tomato tartar or Stewed lamb shoulder with homemade french fries, egg and hollandese sauce. The average cost is 2600 tenge. They also serve sweet breakfasts, such as, porridges, syrniks and granola with yogurt. The average price is 1600 tenge. Take eat easy is located on Baitursynov, 3 Street.