The meat for doner is fried using special technology in grills intended for this. The cut is strung on a vertically located skewer, which rotates around its axis and relative to the heating elements. Flameless gas burners are also located vertically along the skewer. As the meat is toasted, it is cut with a long knife into thin slices that fall into the pan and used for filling the pitas.
Initially, the fry pots for cooking the "slice" kebab were horizontal and were fueled with coal and firewood. Modern vertical units for the preparation of meat treats are filled with liquid fuel, they are able to quickly and efficiently fry, bake meat slices.
It is often garnished with diced tomatoes, cucumbers, and onions, pickled vegetables, and tahini sauce or amba mango sauce. Some restaurants may offer additional toppings like grilled peppers, eggplant or french fries.
Here is a list of places where you can eat doners in Almaty.
Dyadya Doner
Unlike kiosks, they have a procurement workshop where the main stages of the production process are held. Cooking products arrive at the restaurant daily, so they offer tasty and fresh refreshments. Dishes are prepared in minutes due to the standardization of the process and the availability of blanks.
They offer different types of doners, burgers and hot dogs.
Address: Gogol St. 144
Zheka's
Popular doner house that has lots of cafés almost in every city of Kazakhstan. Beside doners they serve plov, soups, burgers and deserts.
Address: Abay Avenue, 34
Panfilova, 113/56
Auezova, 171
8th microdistrict, 87a
Seyfullina avenue, 483/1
Zhetysu 1st microdistrict, 54/2
TRK Forum Seyfullina prospekt, 617
Zhibek Zholy Avenue, 106
Rayymbek avenue, 239g / 3
Tole Bi, 285
Ritz-Palace-Al-Farabi Avenue, 1
Kuropatka
Fast food delivery company in Almaty. They have wide range of food that you can see on their website. The price varies from 750-1200 tenge.
Almaty Doner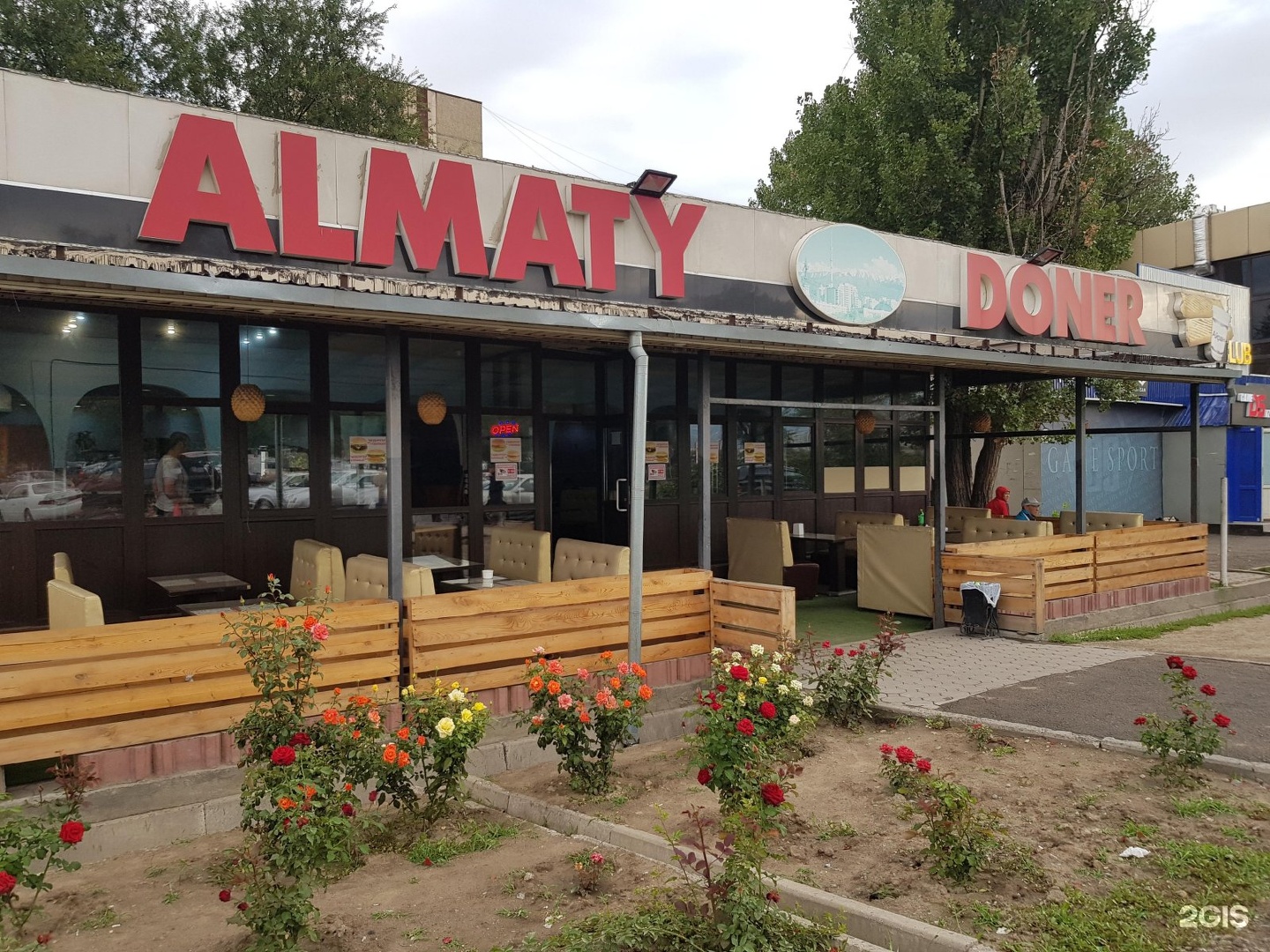 The place is well-known around Almaty residents for delicious doners and good service.
Address: Abay, 34 Avenue
OZYURT
The history of the well-known Ozyurt brand in the city dates back to the distant 1993. It was one of the first restaurants in the city of Almaty, focused on oriental cuisine. In particular, the institution places a particular emphasis on Turkish culture. Even then, the restaurant "Ozyurt" receives the honorary title of the best institution in the city.
The dishes of our cuisine use exclusively high-quality Halal products. Fragrant oriental spices give Ozyurt cuisine a special touch, sophistication, and completeness.
Address: st. Tulebaeva 13
Master Doner
This cafe serves doners and the most delicious pide in the city. Pide - Turkish national dish, it is like pizza.
Address: st. Baitursynova 78a
Degirmen
Degirmen has been operating in the market for the production of sweets and pastries since 1986, when the first store of this brand was opened in Izmir, Turkey. Since 2010 in Almaty has been operating its own confectionery factory, providing its customers and partners with delicious products of impeccable quality made from natural ingredients.
Address: Zhumaliev 9, Street.