Sancak
Address: 15 Zhibek Zholy Av.
Average bill: 2000-5000 kzt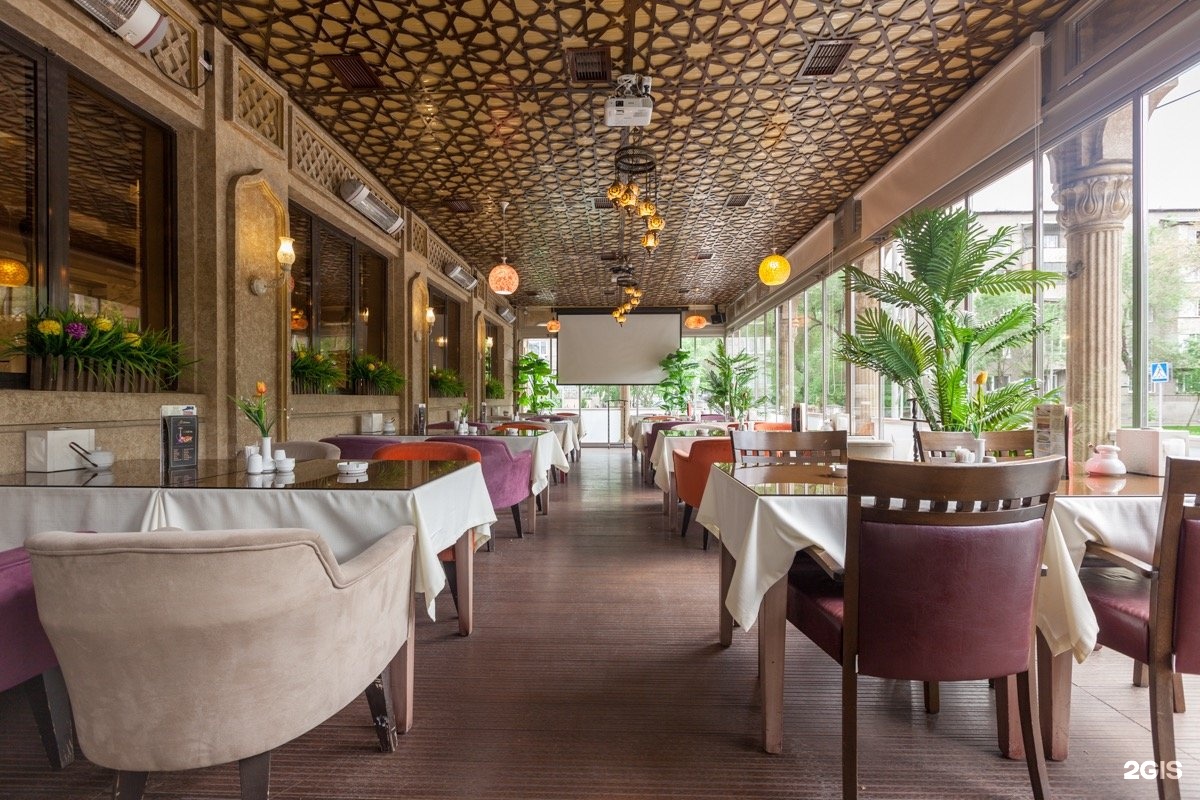 Sancak restaurant is a must-visit place to taste real traditional Turkish dishes. The interior, decorated in national style, will create the atmosphere of distant Turkey. And the service of professional staff will satisfy the most fastidious guest.
The restaurant serves grilled meat, kebabs and doners. For a family dinner, crispy rolls of puff pastry "Boreki's cigar" stuffed with homemade feta cheese are perfect. Their famous lentil soup is also so popular that visitors come back here to try this dish again. You should definitely try the chef's dessert. This is a thick milk-rice pudding, which is baked in the oven and a delicious crust forms on top. It is served cold in clay molds. After a hearty dinner, do not deny yourself the pleasure to taste aromatic tea in Turkish.
Cicek Mangal
Addresses: 226 Nazarbayev St.; 64 Kunayev St.; 26/1 Nusupbekov St.
Average bill: 2500-3500 kzt
Cicek Mangal is a real piece of the eastern world in the very center of Almaty. This is a restaurant that is remembered for a warm, bewitching atmosphere with an unforgettable experience! Our employees give unique emotions to their customers. Cicek Restaurant offers you to plunge into the atmosphere of delicious food and cool drinks. You can personally verify this by visiting this restaurant with fragrant oriental spices, you will forever remain their regular customer.
Ozyurt
Address: 13 Tulebayev St.
Average bill: 3500 kzt
Ozyurt Restaurants is a leading restaurant chain in Almaty. This is a non-alcoholic restaurant that will make you take a fresh look at oriental traditions and cuisine. Only here you will find real oriental hospitality. Waiters will offer guests the best dishes of Turkish cuisine, both in traditional and original serving.
The history of the well-known Ozyurt brand in the city dates back to the distant 1993. It was one of the first restaurants in the city of Almaty, focused on oriental cuisine. In particular, the restaurant places a particular emphasis on Turkish culture. Even then, the restaurant "Ozyurt" receives the honorary title of the best place in the city. It is distinguished by warmth, hospitality, special sophistication, and unique delicacies. Local residents and guests of Almaty come here to taste the special flavor of Turkish culture.
The dishes of its cuisine use exclusively high-quality Halal products. Fragrant oriental spices give Ozyurt cuisine a special touch, sophistication, and completeness.
Orient
Address: 67A Mametov
Average bill: 3000-5000 kzt
Orient Cafe is a cafe of Turkish cuisine in Almaty, where you will be offered the best dishes of Turkish cuisine from real Turkish chefs. The restaurant's list of dishes includes the famous Iskander / Doner kebabs, delicious sweaters, bates, fragrant soups, and numerous variations of salads. In addition, chefs will delight you with the famous oriental pastries. You will be treated with lahmajun, pide, pouf lavash. Orient Cafe is famous for its warm atmosphere and unforgettable impressions that its employees give to their customers.
G Balik
Address: 263 Rozybakiyev St.
Average bill: 20000 kzt
G Balik Turkish Restaurant is a great place for fish lovers.
G Balik is a Mediterranean fish restaurant. Entering this restaurant you can feel like you are in Istanbul. The interior, atmosphere, service and maintenance, sophistication of dishes will pleasantly surprise visitors.
Veranda cafe
Address: 75 Masanchi St.
Average bill: 3000-6000 kzt
The cafe is located in the business center of Almaty. The menu includes delicious dishes of Turkish cuisine from the Chef from Turkey, as well as dishes of traditional and European cuisine and all kinds of amazing barbecue. A playground is a huge plus for families with children. While you enjoy a pleasant meal on the Veranda Cafe summer terrace, your children can have fun frolic in our playground. This is very convenient - the kids are always in sight and safe, and you can relax and enjoy the food.
Turkish cuisine rightfully takes a leading place among the culinary traditions in the world. Thanks to the variety of ingredients used, increased attention to their quality and simplicity of recipes, Turkish cuisine has always become a pleasant experience for gourmets. If you want to taste Turkish cuisine in Almaty, there is a huge variety in choosing a restaurant for every taste. Embark on this little taste journey!