The South part of the Kazakhstan has beautiful places to visit and some of the national parks are worth to visit.
Ile – Alatau National Park
Ile – Alatau national park was created in 1996 and has a territory of 200,000 ha or 2,000 km2 and it is a home for approximately 300 species of wildlife, even including snow leopards, Central Asian lynx, Tyan Shan brown bears, Central Asian stone martens, golden eagles, Siberian ibexes and bearded vultures. It is located at the mountains south from Almaty. The landscape includes woodlands, alpine meadows, glaciers, waterfalls and lakes. The National Park has hiking trails, which is allowed to see all the beauty of the nature inside of the park.
On the edge of the Ile – Alatau National Park located world's largest outdoor ice – skating rank "Medeu" and Central Asia's top skiing resort "Chymbulak". Both of them are opened since November to March. The climate in the park varies between zones; with the highest mountainous zones the highest precipitation may occur more than 600mm.
Altyn – Emel National Park
Altyn – Emel National Park founded at 1996 and covers the area of 1,776 mi2 or 4,600 km2 between Ak Tau mountain range and Ile River. The park had an objective to preserve the natural complex, as well as archeological and historical monuments. Altyn – Emel National Park is also a part of UNESCO's world heritage. The park contains different beautiful landscapes from mountains to sand – desserts, and it has a rocky terrain. One of the prominent features of the park is Aktay Mountains, also known as "lunar mountains" because of their particular colors. The most famous part of the park is "Singing Dunes", which are 150m high and 1.5km long. During the dry and windy weather the dunes are producing low vibrating sounds, which cause feeling that the pipe organ is playing.
The park is a home for more than 260 fauna species and for 1,800 plant species, where 69 of them are rare. The fauna includes the 78 different types of mammals and 11 of them are included in the Red Book of Kazakhstan, like stone marten, polecat, otter, manul, wild ass, gazelle, argali, Asian barbastelle bat, Bukhara deer, lynx and Tien Shan brown bear. Also, 56 animal species considered being rare, including Persian gazelle and Przewalski horse. The park has a continental climate with cold winters and warm summers. At warm moths from April to October the temperature at least will be 10C (50F), but never over 22C (72F).
Charyn Canyon National Nature Park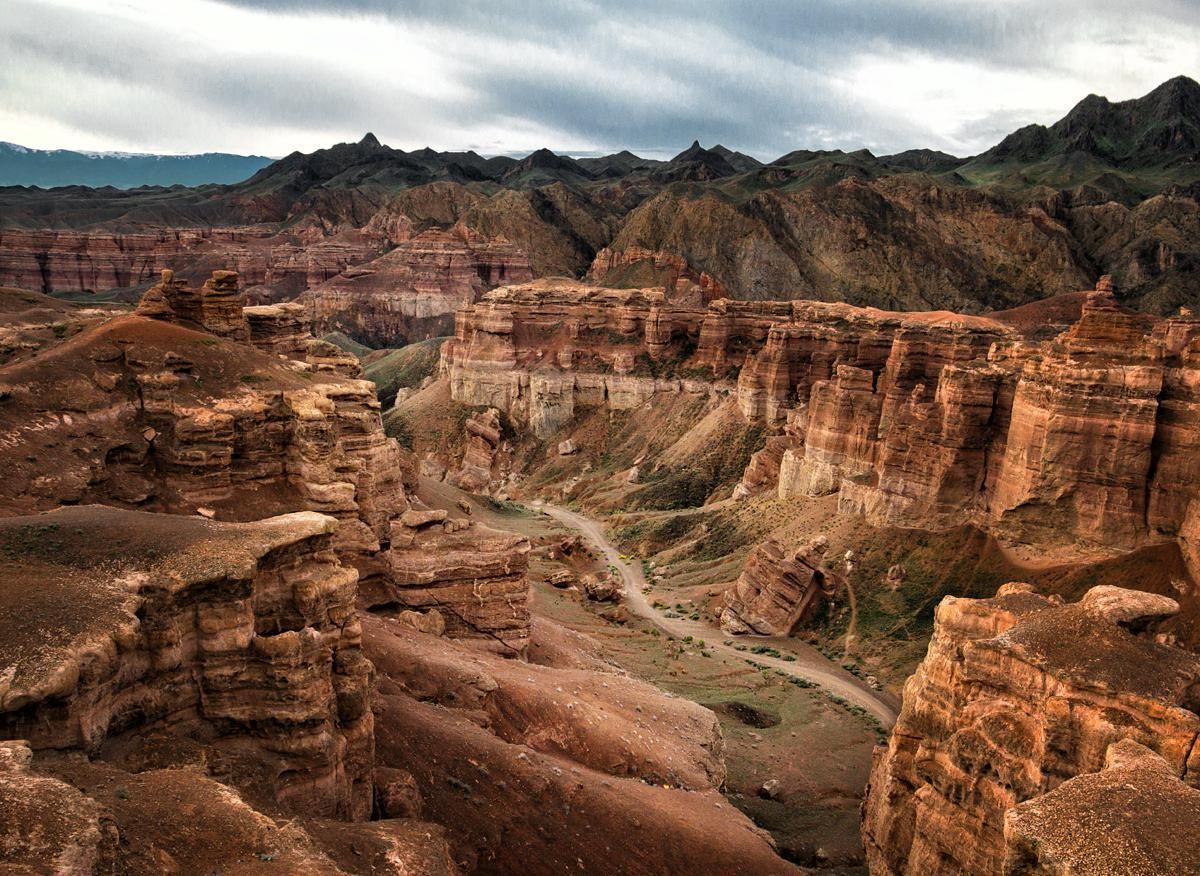 The park was established at 2004 and stretching along the Charyn River, including Charyn Canyon. Charyn Canyon Ntional Nature Park is 125,050 ha or 1,250 km2 and the park is about 200km East from the Almaty city. Scientists recorded 32 species of mammals, 18 of reptiles, 4 of amphibians, 100 of birds, and over 1,000 plants, 50 of which are rare or endemic.

Within the park is the Charyn Ash Grove, which was once a long forest belt of Sogdian Ash trees that spread across Tyan Shan Mountains back in the Paleogene period. The Ash Grove in the park, which only occupies 5000 ha or 50km2, can withstand the fluctuations in salinity and drought in floodplain soils. Above those soils there is a unique community in which dominant plants include Saxaul, Eurotia and Ephedra. The climate is usually cold at wintertime, where the temperature in average is -10C (12.7F) in January, and warm and dry at summer time, where the temperature in average is 19.5C (67.1F) in July.