If you want to make your trip to Semey unforgettable, you should think about staying in advance. We have prepared for you a list of hotels and hostels where you would like to return again and again.
1. Hotels
Hotel Europa
Address: 9 Urankhayev St.
Price range: 12000 kzt
Hotel EUROPA is located in the very center of Semey and offers unrivaled comfort and ease of accommodation. The location of the hotel is ideal for both tourists and those traveling on business. Within walking distance is the financial center, the central square and the main attractions of the city. The location of the Europa Hotel makes it an ideal choice if you are attending significant city events.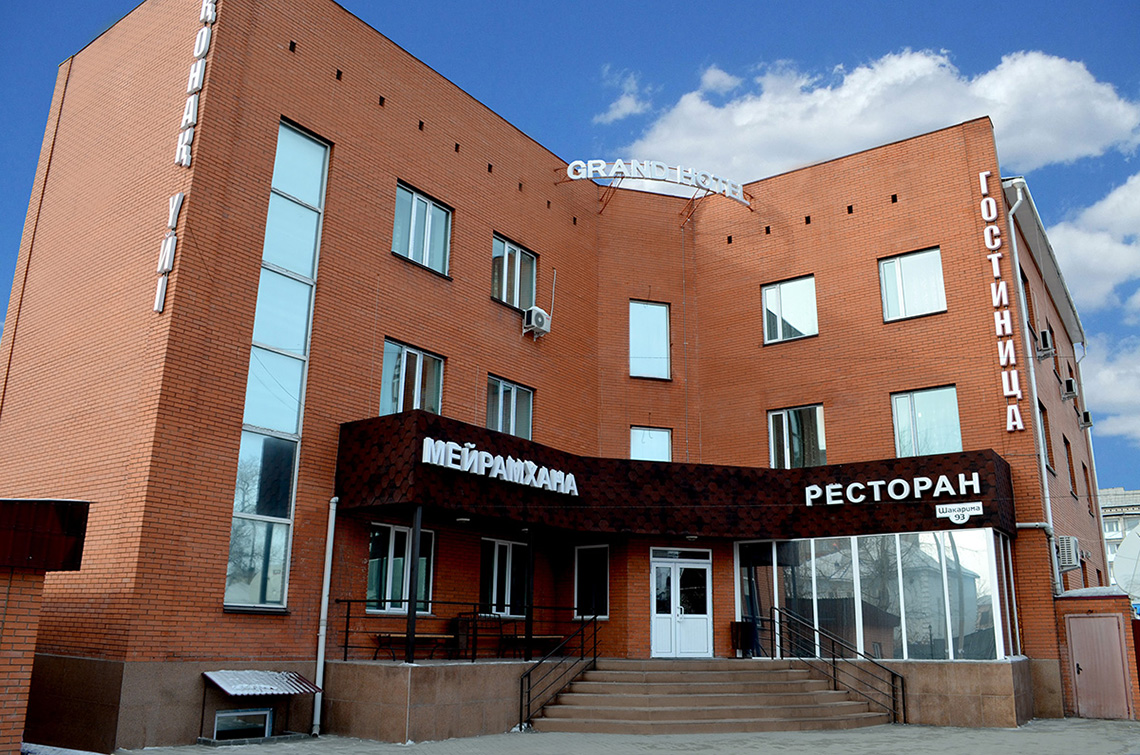 Grand Hotel
Address: 93 Shakarim Ave.
Price range: 10500-29000 kzt
Grand Hotel was founded in March 2014. It is located in the central part of the city of Semey. Residents are served in a restaurant, where always delicious food made from fresh and natural products. If you cannot imagine a vacation without your pet, then do not worry - pets are allowed here, the main thing is to specify the details with the administration. The complex is suitable for organizing conferences, lectures and subsequent banquets.
Today Grand can rightfully be considered one of the best hotels in the city, because the conditions of stay in it correspond to international standards and the highest requirements.
NomAD
Address: 149 Ibrayev St.
Price range: 19000-55000 kzt
NomAD is the first international-class hotel in Semey. The hotel is located in the city center, close to business and administrative areas. The hotel offers a beautiful view of Central Park. At the hotel you will be met by qualified staff who will answer any of your wishes. There is a Restaurant on the second floor, where you can try the best European cuisine. The hotel also has a gym. For business meetings, the hotel is pleased to provide an equipped conference room. The NomAD Hotel is based on the best international standards of hotel business.
Tourist
Address: 9 Zhambyl St.
Price range: 7000-25000 kzt
The Tourist hotel complex is located on the left bank of the Irtysh near educational and cultural and entertainment centers. The unique location of the hotel makes it the most convenient for the city guests .
The hotel complex optimally meets the needs of customers who are accustomed to relaxing in hotels of high category, as when you get here, you will feel the atmosphere of modern comfort.
The hotel complex can accept and serve at a time with the provision of a full range of hotel services for up to one hundred people.
Mini-Hotel VIP
Address: 47 Mamay Batayra
Price range: 6000-9000 kzt
Mini-Hotel VIP is a popular destination for tourists from all over the world who come to Kazakhstan.
Its attractiveness lies not only in the fact that the minimum price starts from 6000 tenge per one night, but also in an advantageous location near transport interchanges, attractions and other popular places of unprecedented interest.
The city center is only 3 km away.
For those who are used to relaxing and combining this pleasant time with work, the VIP-room of the mini-hotel has round-the-clock Wi-Fi Internet access.
2. Hostels
You can also choose an alternative to hotels, preferring a hostel.
The hostel is not only a budget accommodation option, but also a great opportunity to chat with other guests and find like-minded people. Share tips or share your stories with travelers from around the world in the shared kitchen or game room.
The first youth hostel opened in 1912, and since then this accommodation option has changed a lot: from a budget overnight stay for one night to luxury hostels - everyone can find an option to taste. Whether you prefer to share a room with other guests or live in a separate room, staying in a hostel will be cheaper than in a hotel, and you definitely will not be bored. Unfortunately, the range of hostels in Semey is not very wide, and we know only one hostel matching price-quality criteria. It is called Karavan hostel.
KARAVAN Hostel
Address: 208 Dulatov St.
Price range: 1500-2000 kzt
It features a shared lounge and free Wi-Fi throughout. Room service is available upon request. Other facilities include a 24-hour front desk, a shared kitchen and a currency exchange.
Guests have access to a shared bathroom with a shower and hairdryer.
The hostel also offers free use of bicycles and ski equipment. You can also rent a motorcycle. The area is popular for hiking and cycling.
Do you know Semey is formally the largest city in the world, and it is also declared as the geographical center of the supercontinent Eurasia? Despite of these facts many people argue about modern Semey is a beautiful city with developed infrastructure, parks and gardens, willing to welcome guests and show them their sights you should see for your own eyes.