Tien Shan is one of the largest mountain systems in Asia. Tien Shan is located in Kyrgyzstan, China, Kazakhstan and Uzbekistan. The territory of Kazakhstan includes almost the entire Northern Tien Shan, parts of the Central and Western Tien Shan. Ranges are included in the Northern Tien Shan: Ketmen, Kungey Alatau, Zailiysky Alatau, Chu-Ili mountains and Kyrgyz Alatau. The Western Tien Shan includes such ridges as the Talas, Ugamsky and Korzhintau.
Tien Shan means "heavenly mountains". The 7,010-metre Khan Tengri Mountain is the highest point in the country. It is located on the border of China, Kyrgyzstan and Kazakhstan.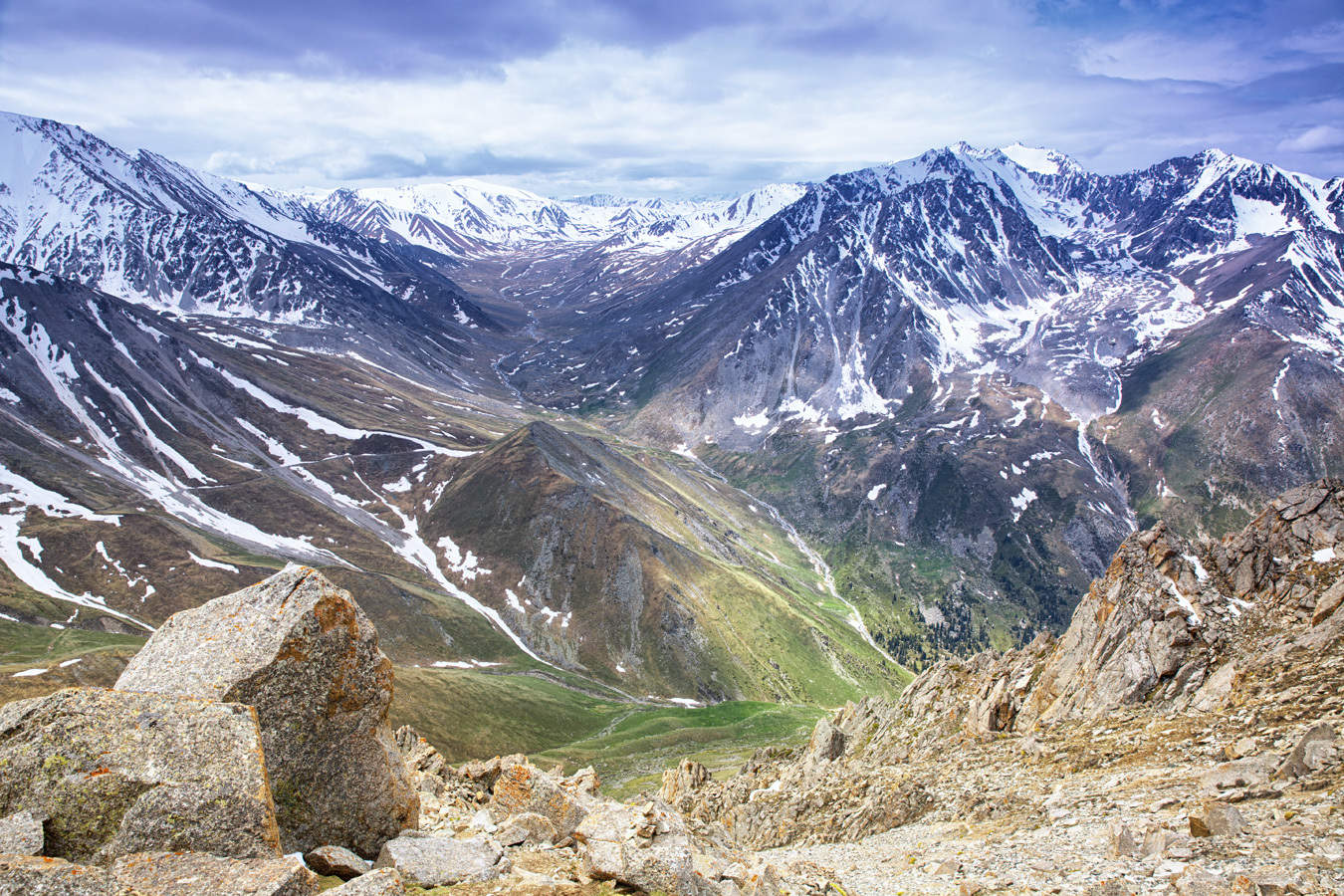 The Zailisky Alatau ("multicolored mountains" in Kazakh), one of the foreranges of the Northern Tien Shan. It was the most popular center of mass-scale mountaineering in the former Soviet Union. The length of the Zailisky Alatau is over 400 km, the width varies from 40 to 60 km. The versatile nature and coloring of these mountains are wondering. That is why local residents calls them "Alatau" which means "multicolored mountains". The Talgar peak (5017m) is the highest point of Zailisky Alatau ridge.
Popular climbing routes are Peak Komsomol (4376 m), Peak Uchitel (4045 m), Peak Pioner (4031 m), Peak Uchitel (4045 m), Peak Amangeldy (3999 m), Peak Mayakovskogo (4208m), Peak Ordzhonikidze (4410m).
Karatau Mountains ridge are located on the south of Kazakhstan, on the territory of the Turkestan and Zhambyl regions, the western part is on the territory of the Kyzylorda region. The length of the rudge is about 420 km and the height up to 2176 m (Bessaz peak).
The Altai Mountains are a mountain range in Central and East Asia. Mountains are located in Russia, China, Mongolia, and Kazakhstan, where the rivers Irtysh and Ob have their headwaters. The name comes from the word "alt" that means "gold" in Mongolic languages and the -tai suffix that means "with"; so, it means "Mountains with Gold".
Another mountain that is popular amount climbers in Kazakhstan is Dzungarian Alatau. The Dzungarian Alatau is a mountain range that is located in the eastern part of the country on Kazakhstan-China border. The total length of Dzungarian Alatau is about 450 km, width varies from 50 to 90 km. Till 2600 m of height the Dzungarian Alatau landscape is semi-deserts and steppes. The narrow mountain range with sharp peaks and rocky gorges are on the height of 400 to 1000 m. Above 3500 m the mountain range is covered with eternal snow and ice. The highest peak - Peak Semenova-Tyan-Shansky (4,622 m) is located on the Kazakh-Chinese border.