Big Almaty Lake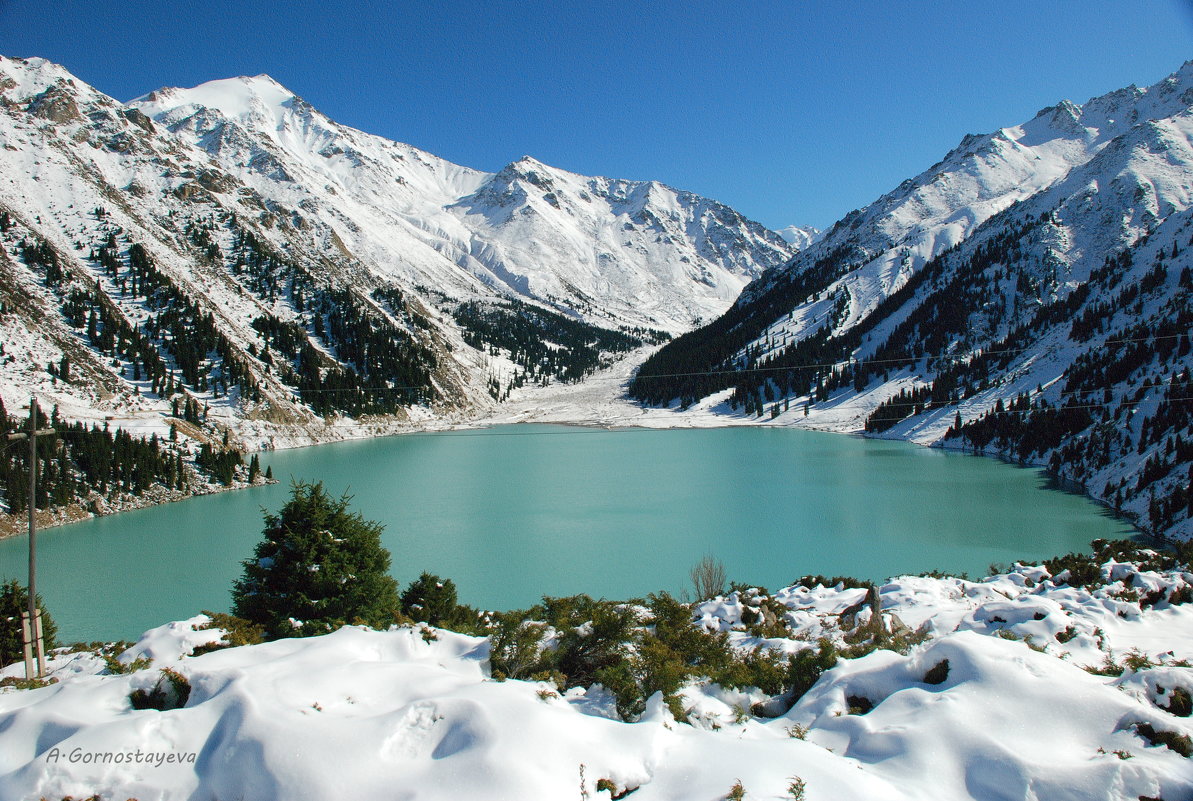 Big Almaty Lake is one of well-known natural water reserve in Kazakhstan, and it surprises visitors with breathtakingly fresh blue color and spectacular views of the surroundings. It lies under the Trans-ili Alatau Mountains and belongs to the territory of Ile-Alatau National Park. The lake is located with distance of 15 km from Almaty, and you can simply approach the area by car an hour away, or by hiking or bicycling on half-day period. You'll likely to enjoy this stunning scenic place and capture the backdrops, and you would never forget the moments that you have seen near Big Almaty Lake. It's a lively wonderland with snow-capped mountain, clear river lake, wildlife diversity. Bear in mind that you are not allowed to swim in the lake for ecological protection, and that's why it gives us great views of the clearness.
Lake of Kapchagay
Head to the Kapchagay Lake nearly 60 kilometers away from Almaty, you are in the place of "Lost Vegas" sandy beach. The lake was made through a dam across the Ili river in 1970, and it now becomes popular vacation option for people living nearby and for travelers. Along the lake, people can find a place to rest: luxury hotels, casinos, swimming pools, good restaurants and bars. In summer, a great amount of visitors make the resort lake crowded. It's suitable for family vacation plan; children can swim in the lake within shallow and warm water. Another interesting fact for you to observe is that ancient Buddhist paintings drawn on the rocks from mid-16th century. There was once blooming of religion -Buddhism in central Asian countries which may trigger your curiosity to further discovery. If you are a typical history seeker, you could also access nomad film set on the other side of the river. Having seen the historical walled city, your trip to Kapchagay is worth thousands of journeys.
Esik Lake (Issyk Lake)
Move 60 kilometers east from Almaty, you are starting another one comes with a new striking outdoor experience. Esik Lake is on the top of hills with crystal clear water, mirroring the surrounded mountains and pine trees. Earlier natural landslide was ruined once by earthquakes and flood; further reconstructed by the government. As a result of its changeable form, the lake fascinates visitors with its history. Here you are visually relaxing with great photogenic nature. Nature always brings you instant calm to yourself, and relieve all your stress and anxiety. You may walk around the lake and take some fresh air. You probably want magical night-stay under the forest stars, the summer camp is superior idea to embrace with your family or friends. Near the parking lot, it also offer tables and shelters for picnic. With the help of local guides, you could go along the hiking trails for more outdoor discovery of the region.
Kolsay Lake
Kolsay Lake is a part of National park naturally supplied with rare and diverse species. It is suited in northern Tian Shan Mountain near the border with Kyrgystan. Although major territory of National Nature Park is in the care of local government, there are lower lake part and Sary-Bulak Pass accessible for tourists. The lower lake is 80 meters down in deep water, and middle one reaches 50 meters in depth. The temperature is a bit low except the four months of summer. Due to crowded visitors on the weekend, weekday-based tours are highly recommended to go hiking or walking around the shore. Based on 25 meters of hiking route, you can enjoy mountain views on foot three days, or horse-riding one day. The whole route is ideal for photography, while walking on a path of hills. You can camp near the site or stay in guesthouse in Village of Saty or Kurmety, which offers welcoming atmosphere and panorama of the natural scenes.
Kaindy Lake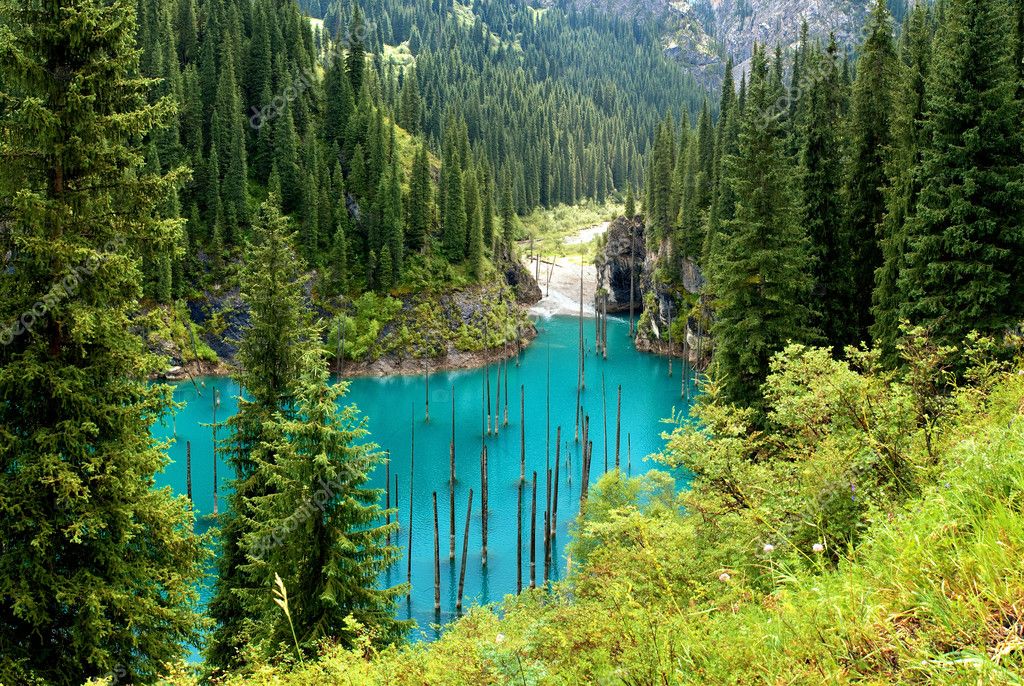 Kaindy Lake is a typical brotherhood-like lake to Kolsay which means for close distance and sharing of one terrioty- Kolsay Lake National Park. It is famous for its mirror-image effect and plenty of wooden trunks standing in the water. The depth of lake is about 30 meters, with distance from the city of Almaty to the lake is nearly 129 kilometers (80 miles), and elevation of 2,000 meters (6,600 ft). The Lake was the landslide consequence of 1911 Kebin earthquake which created a natural dam. It is bluish-green colored and fulfilled with in-water Picea schrenkiana trees trunks. Due to its unique landscapes, it's perceived as "a sunken forest". For those wants to taste exotic nature, Kaindy Lake is a decent option for hiking and horseback riding. You can try ice diving and trout fishing even in winter. If you are looking for complete solitude, go to Kaindy Lake and boat round the lake, that's true paradise.
Balkhash Lake
The third largest lake of Kazakhstan is undoubtedly Balkhash of length 614km and width 3.5 to 44km. It is also the fifteenth largest one in the world. The lake reaches nearly 26 meters in depth. It has over 35,000 years of history based on research of geologists and geomorphologists. Unique features of the lake is degree of mineralization in its western and eastern parts; its dry climate condition, desert location, and occasional rainfall has never been the barrier of nurturing of the lake. Peculiar phenomenon of the lake amazes all-year-round tourists with new discovery and rich biodiversity. It remains one of the most popular destination for local people in summer vacations. At Balkhash beach, you will find fresh fish food of the lake.